Facebook i.e Meta Platforms, Inc., doing business as Meta and formerly known as Facebook, Inc., and TheFacebook, Inc., is an American multinational technology conglomerate based in Menlo Park, California. The company owns Facebook, Instagram, and WhatsApp, among other products and services.
For resetting a password, and confirming that's your account sometimes you need 6-digit OTP to prove that it's your account but in some scenarios, you fail to receive the OTP so in this post we are going to talk about the solution to this problem.
Fix Facebook 6 Digit Code Not Received – OTP Not Received Problem Solved
Well, there are two ways to receive OTP for Facebook the 1st way is to receive it to your linked phone number and the second way is to receive it to the Email, which should be linked to your account, otherwise, this option will not be visible to you, as shown in the screenshot below.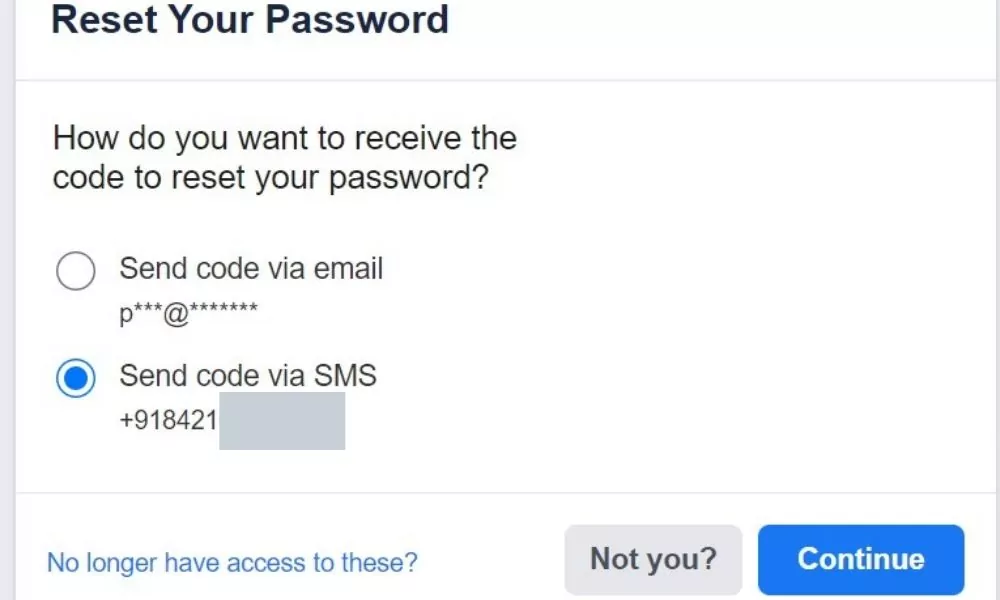 Not Receiving Facebook OTP to Phone Number
You can go method wise to solve this problem and in middle, you may find the solution so go one by one.
Method 1
First, up all check the number thrice if it's correct or not.
Method 2
Try connecting to different Internet if available. If you have different network provider Internet then try using that, or if you have broadband WI-FI then try using that too, in many cases this method works!
Method 3
Clearing Facebook's cache will not delete any important data and it can resolve your problem easily.
Follow the simple steps given below to clear the Facebooks Cache.
Long tap on the Facebook app's icon then tap on the 'App info'. (Basically, tap on 'i' symbol)
Now go to the "Storage" section.
Then tap on the 'Clear Cache'.. Done! (In some smartphones the Clear Cache option may be in a different location).
Method 4
Restart your Smartphone which can resolve the problem related to the network.
Method 5
Try Updating or Re-installing the Facebook app again, make sure you install the latest version of Facebook. Reinstalling the app will delete all data from your phone which was related to Facebook.
Method 6
Check if your sim card receives the normal SMS from others if it's not then try contacting your network operator and explain to them your side problem.
Method 7
Tap the didn't get a code? button to receive the second OTP, But be careful you only have a few chances to get that code, after that there is a limit to getting the OTP.
---
Not Receiving Facebook OTP to Email
Some steps are common I will not explain them again you can just refer to the above Methods. Sometimes it also says An error occurred while sending the message facebook code. In this error, the Facebook verification code won't send to email to confirm the identity
Different solutions for not receiving the OTP mail are explained below.
Method 1
The same as from method 1 from above but it's necessary to give an idea to check the recovery mail if it's correct or not., and also check if you have opened the same recovery mail account to see the OTP or not.
Method 2
If you are using Smartphone then Follow the similar process from Method 3 above to clear the cache of the mail app of your smartphone.
Method 3
Try to check through the spam folders or promotions. Many ties Facebook emails are available to see in the promotions section.
Conclusion
So that was a quick solution without any useless words. We explained solutions if you aren't able to receive OTP of Facebook verification.
Hope you got some value and help from this article thanks for reading it till the end and giving your precious time to this post.