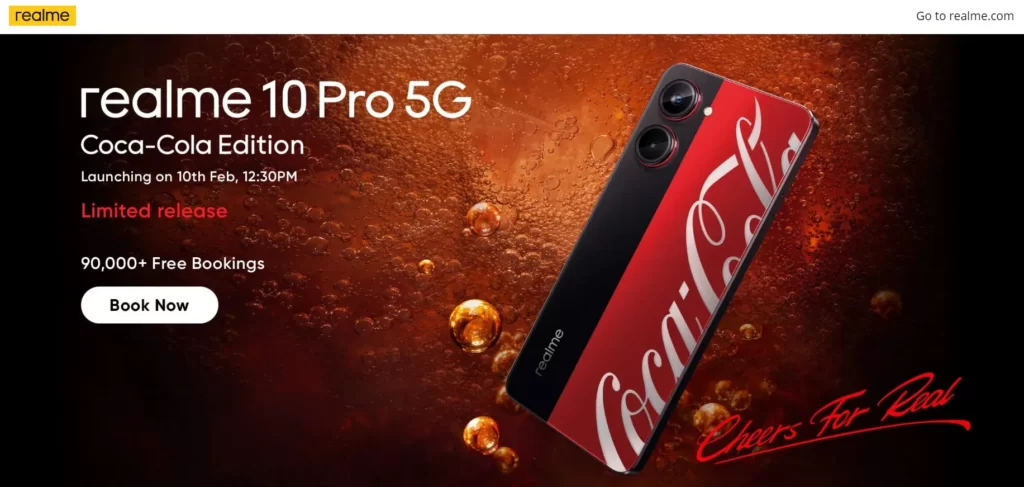 Realme, the popular smartphone brand, is set to launch a limited edition of its Realme 10 Pro Coca-Cola Limited Edition smartphone, especially in India on February 10 at 12:30 pm. This Realme limited edition is set to be very different and unique, with an eye-catching different design that pays dignity to the iconic beverage brand Coca-Cola.
By Prebooking you will also get a chance to enter a contest Real full news ->>.
This Limited edition comes with all same specifications that Relame 10 Pro has but what's different is its design which will feature a split back cover design. It will have a black back cover with a red ring lens on the left side and a Coca-Cola logo back on the right which makes this device stand out from the crowd.
The Realme 10 Pro Coca-Cola limited edition is said to be powered by the Snapdragon 695 chipsets and it will come with LPDDR4X memory and UFS 2.2 flash memory. It will also support 1TB memory card expansion, making it a powerhouse for storage. The device will have a 6.72-inch Full HD+ 120Hz LCD screen with reduced bezels of 1mm on both sides, providing a truly immersive viewing experience.
The device will come equipped with a 108MP Pixel dual rear camera, making it a great choice for photography. The 5000mAh battery with support for 33W fast charging will ensure that users can use the device throughout the day. The Realme 10 Pro Coca-Cola limited edition is expected to be priced at 19,000 INR, making it an attractive option for consumers looking for a high-performance smartphone with a unique design.