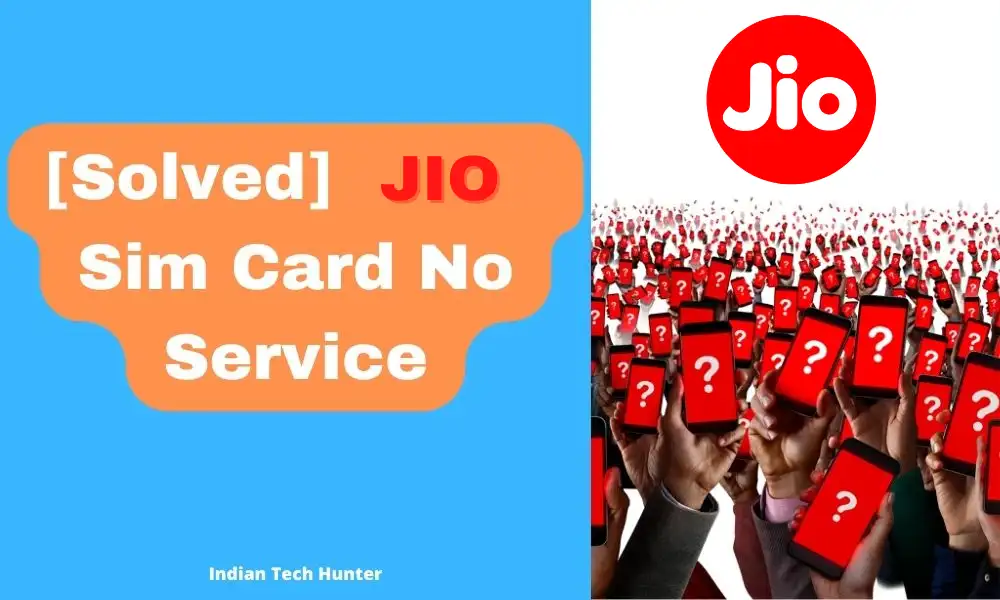 Reliance Jio Infocomm Limited, doing business as Jio, is an Indian telecommunications company and a subsidiary of Jio Platforms, headquartered in Navi Mumbai, Maharashtra, India. It operates a national LTE network with coverage across all 22 telecom circles.
Jio started the internet revolution in India and it is one of the most used sim services in India. But unfortunately, you may get problems sometimes while using the Jio service network. There can be multiple reasons behind this no service on Jio Sim.
So in this post, we will have discussed some reasons and solutions behind this no-service issue on Jio so keep reading this post till the end to know all factors and situations.
Solutions to Jio Sim Card No Service
1. Aeroplane Mode
Whenever you get into such network issues the first thing which can easily fix this issue is turning on Aeroplane mode for about 20 seconds. This resolves some sort of network issues easily.
If it didn't work then follow the next solutions.
2. Set Preferred network type
Sometimes when you update or do changes related to your device default sim settings get disturbed. Preferred network type settings may get disturbed anytime which may result in Jio sim showing no service on Android and iPhone.
To solve this particular issue you can check & update your preferred network settings by following the steps given below:
Open Settings -> Go to SIM networks -> Open Preferred network type -> Select 4G/Prefer LTE.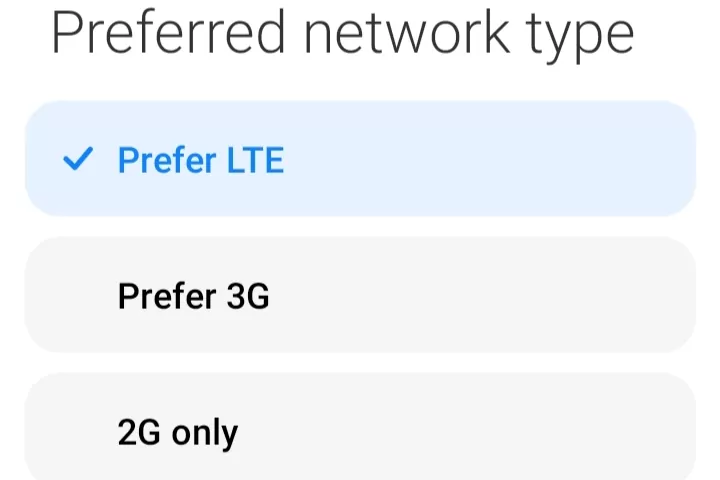 Generally, you have three options in the Preferred network settings in most devices which is 2G, 3G or 4G. If you are in remote areas you may not get a 4G network so in this situation, you can select a 3G or 2G by using this option which generally works to get a 3G network by which you can at least call.
3. Free space
Move to the open area, the walls, and the insulation can block signals from nearby mobile network towers and prevent your phone from communicating with it effectively. Move to an open area where you can increase the strength of the signal reaching your phone.
4. Remove the Sim card and insert it again
Sometimes when you drop your smartphone your sim card may get damaged or dislocated from its position hence, try to remove your sim and then again try to insert it properly.
If it didn't work then try to insert the Jio sim to another slot of your phone. When you remove the sim also try to clean it with a dry cloth. Then again try to insert it.
5. Automatically Select Network:
There are two ways to connect your sim to your network operator. The first one is Automatically select the network and the second way is to choose the network manually.
When you have selected the network manually it causes many problems, so you should always choose the option "Automatically Select network".
To choose the mobile network automatically follow these steps:
Go to Phone Settings
Open "Sim cards & Mobile networks".
Choose Airtel.
Go to "Mobile networks"
Turn on the Automatically select network option.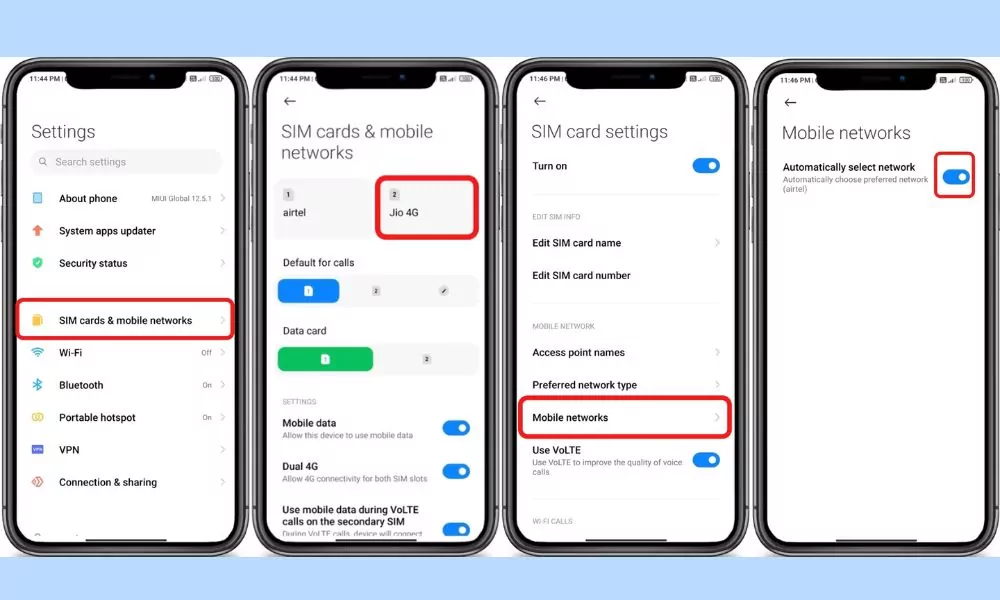 6. Insert sim to another phone.
Some users have reported that my sim card doesn't work on my phone but it works on another device. So you can try to do it alike. So just remove the Jio sim and insert it into another phone. If it is urgent then you can try this solution. If you didn't want to operate your sim from another phone then you can try the next one.
7. Get a new sim
If you think that your sim card is corrupted and it is not working anymore then you can go to your nearest Jio service centre and ask them for a new sim for the same number. They will give you a new sim in hardly 10 minutes.
For this service, there are minimal fees so don't worry about that, after getting a new sim. After this, it may take 24 hours to activate your sim and it will start working normally as it was working, after that it is very rare to see a New Jio sim Not Showing a Network.
8. Call Customer Care
If you have followed all the above methods and none of them worked for you to solve the problem, then try calling customer care of Jio from a different number. And ask them for the solution for the Jio network problem solution, and also ask them to check if does Jio network problem in your area or not.
In India, To register any complaint, you can call on our Customer Care Number 198 (toll-free). If you are calling from other numbers you can reach JioCare on 1800 889 9999.
After calling, explain what exact problem are you facing and they will definitely help you out of this situation.
Conclusion
We have shared all possible solutions to solve the problem of Jio no service on prepaid & Prepaid. If you still have any kind of issues or problems then feel free to comment below. We will help you as soon as possible.