Chatbots are the future of customer service. They can be used to answer basic questions, provide information about products, and even recommend new products. The chatbot is a good way for brands to interact with their customers in a more personalized way.
This post is deeply researched and Written by Yuliya Melnik, In this post, she will explain the essential details about the talkbot building process, working principles, and so much more. So keep your eyes on this post till the end.
Because text messaging is among the popular methods of transferring, chatbots are as widespread as never before. Companies strive to fulfil their business needs by implementing bot solutions. Building and integrating these products into everyday workflows offer better UX and lead to process optimization.
We'll learn the fundamentals of bot building to successfully create this solution and integrate it into your everyday business. 
---
Talkbot Statistics to Consider
According to various statistical resources, talkbots (IT solutions performing actions to solve your issues in the form of a chat) are popular among business owners. For example, CB Insight report 2021 remarked that the talkbot market share reached more than $7 billion, which proves its popularity. Gartner gives good forecasts for the future of chatbot development, stating that 70% of business teams may implement chatbots in their working processes by 2022 year-end.
Bot Advantages
We've prepared the essential benefits of chatbot use. 
Efficiency. Bots economize personnel hiring expenditures, unmistakably performing operations earlier done by people. 
Customized services. You have complete control over your solution and may work as closely as possible with customers.
Mutual comprehension. Chatbots may provide reports on vital user issues for you to analyze and enhance your company's activity.
24/7 availability. You may request support from the chatbot anytime you need it.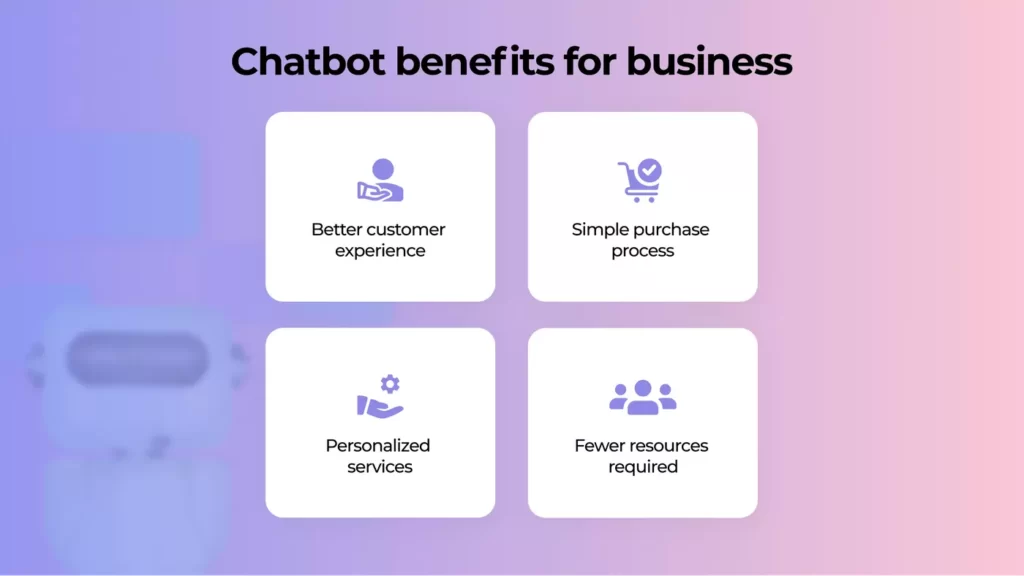 A Talkbot Types Guide
AI-grounded talkbots are expensive variants but suitable for complex and large-scale projects. It might take part in a decision-making process, work with the data acquired, and generate useful feedback reports. You may also teach AI bots to receive more effective results.
Rule-based talkbots are simpler than the previous type. Small businesses with a limited budget can use such solutions for more direct reasons. Rule-based bots are safe to use for transferring data (e.g., media), and simple to be integrated with legacy systems. 
Chatbot Integrations and Architecture
Chatbots get more complex when new components for more natural conversation are added. We'll look at bot architecture and talk about the purpose of its integration.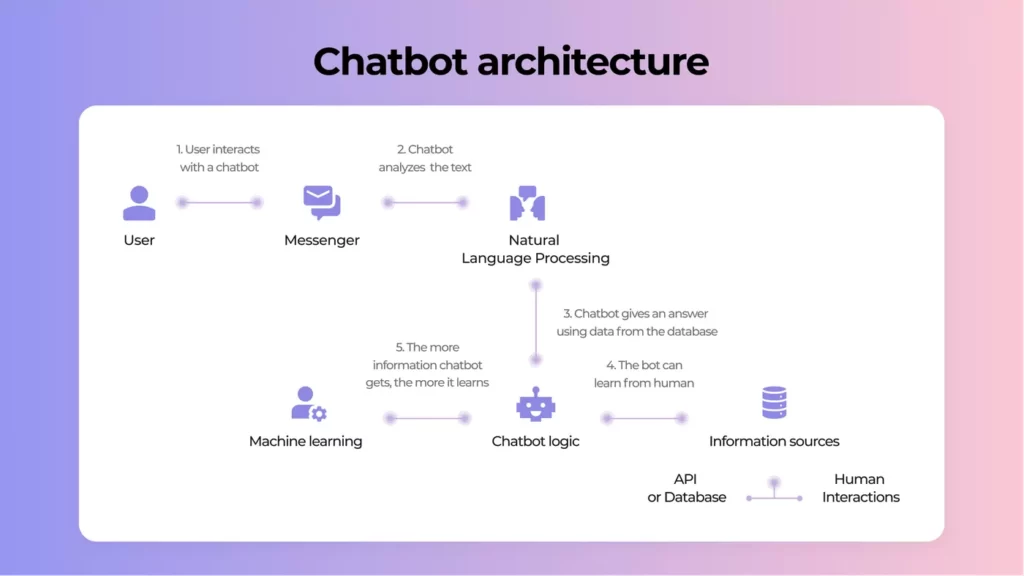 To speed up talkbot development, consider how to integrate your bot with external systems — you'll speed up bot task completion, improve user experience, save resources, and so on.
How to Develop a Talkbot? Essential Steps to Perform
The procedures below should be followed to create a chatbot for your company purposes.
♦ Care about solving your users' pain points
Conduct market research, create a buyer persona, and set your company's aims and objectives to accomplish. You might know more about the needs of your customers and develop a more effective bot product.
♦ Select a platform for further bot integration
Bots may be used with a variety of communication technologies. However, you must determine which one is most acceptable for your target audience.
♦ Hire a skilled software building staff

Gathering a competent staff is required in case you need a customized business bot. The certified specialists will develop your talkbot product considering the latest market demands. So, it will be profitable and sought-after. 
♦ Choose an appropriate bot stack
You can utilize bot builder solutions or deal with frameworks while creating a chatbot.
♦ Test, integrate, and improve
It's not enough to create a properly working chatbot. Before integrating a talkbot into your existing business platform, you should test it to guarantee that it runs correctly. Then, once the chatbot is up and running, you must regularly monitor it for bug fixing or updates.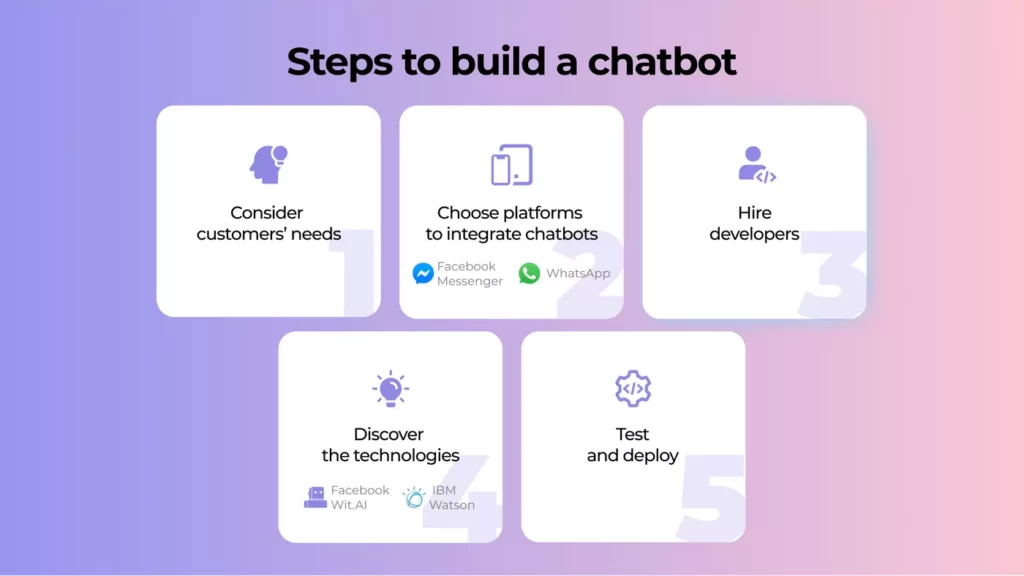 A Chatbot Technological Stack
Typically low-code app development kits contain chatbot options. Talkbots may also be created using bot builders and frameworks.
Talkbot builders will help you create an off-the-shelf solution based on cutting-edge technologies. However, such kinds of chatbots may have limited functionality and be suitable for particular purposes. 
Frameworks can assist you in developing a more advanced chatbot (namely, an AI talkbot). But you should keep in mind that the cost to build a chatbot will be higher than in the previous case. 
What Kind of Chatbot Should You Develop? 
If you're a startup or an SMB, you can choose off-the-shelf solutions that are the most appropriate option. But their set of features is restricted due to the bot constructor where they were constructed.
If you want a bot solution that is suited to the needs of your company, choose a software development business that can assist you in creating a one-of-a-kind digital product employing artificial intelligence algorithms.
Wrapping Up
We've explained only the fundamentals of chatbot development in this post. If you want to have a broad picture, you should apply to a skilled IT vendor. The software development professionals will help you handle all the disturbing business questions, choose the bot tech stack appropriate to your business conditions, and build a modern and profitable digital product for your company.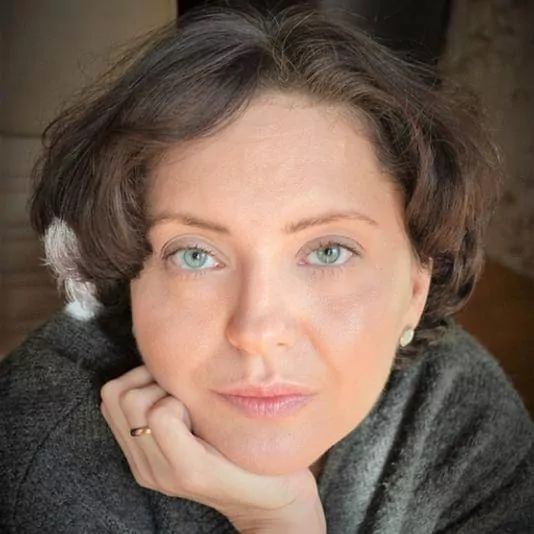 Written by – Yuliya Melnik
Yuliya Melnik is a technical writer at Cleveroad. It is a web and mobile app development company in Ukraine. She is passionate about innovative technologies that make the world a better place and loves creating content that evokes vivid emotions.