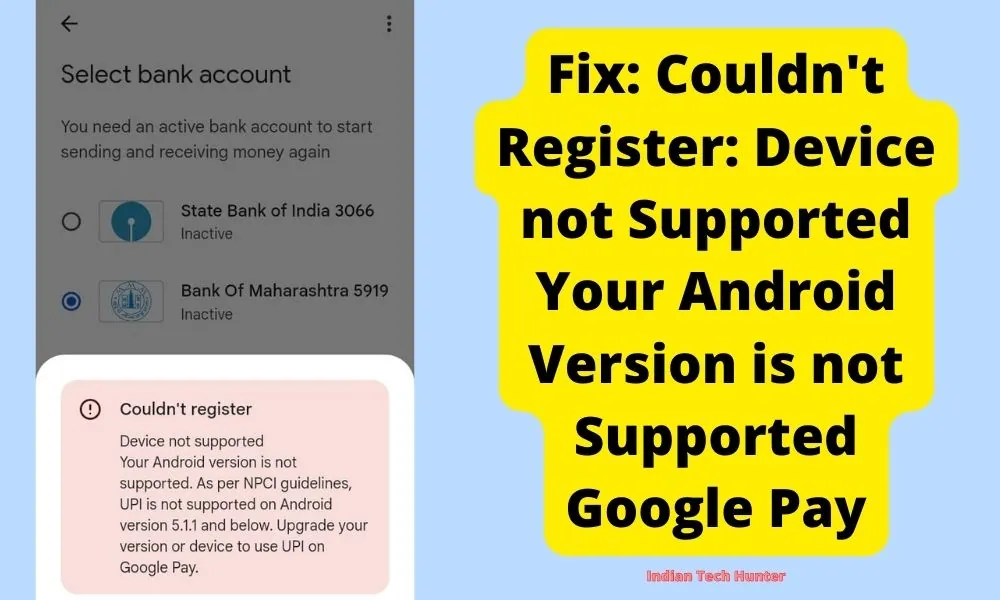 Google Pay has become an essential tool for making secure and convenient payments on Android devices. However, some users might encounter the frustrating "Device not Supported" error, preventing them from accessing this payment platform.
If you are facing this issue on your Android device, fear not; we've compiled a troubleshooting guide to help you resolve the problem and enjoy the seamless functionality of Google Pay.
Couldn't Register: Device not Supported Your Android Version is not Supported Google Pay
1. Check Your Device Compatibility
The "Device not Supported" error usually occurs when your Android device doesn't meet the minimum requirements to run Google Pay. First and foremost, ensure that your device is using a compatible version of Android.
Visit the official Google Pay support page or the Google Play Store to check the app's compatibility with your device's current Android version.
2. Update Google Pay
Outdated versions of Google Pay may not function properly and can trigger the "Device not Supported" error. To update the app, follow these simple steps:
a. Open the Google Play Store on your Android device. b. Search for "Google Pay" in the search bar. c. If an update is available, you'll see an "Update" button. Tap it to update the app.
3. Clear Cache and Data
Sometimes, accumulated cache and data can cause conflicts with the app, leading to errors. Clearing the cache and data can potentially resolve the issue. Here's how:
Go to your device's "Settings" and select "Apps" or "Applications."
Find and tap on "Google Pay."
Choose "Storage" or "Storage & cache."
Tap on "Clear cache" and "Clear data."
4. Check Google Play Services
Google Pay's functionality heavily depends on Google Play Services. Make sure your device has the latest version of Google Play Services installed. If an update is available, install it from the Google Play Store.
5. Download the Old Version of Google Pay
If your device's current Android version is not compatible with the latest Google Pay version, consider downloading an older version of the app.
While it's essential to stay cautious when downloading apps from third-party sources, some reputable websites offer previous versions of apps. Ensure that you download the older version from a trustworthy source to avoid any potential security risks.
6. Update Your Android Version to 5.2 or Above from a Third-Party Source
If your Android device's manufacturer no longer provides official updates for your device, and you still want to use Google Pay, you may explore third-party custom ROMs or unofficial firmware updates.
However, it's crucial to approach this option with caution, as installing unofficial firmware can void your device's warranty and may lead to potential security vulnerabilities.
Before proceeding, thoroughly research the compatibility and stability of the custom ROMs available for your device and follow the installation instructions carefully.
Disclaimer: It is essential to exercise caution when installing third-party firmware, as it may have unintended consequences. Always back up your data before attempting any updates, and be aware of the risks involved. Consult official support channels or community forums for your device to ensure the best possible experience.
Conclusion
Experiencing the "Device not Supported" Error on Google Pay can be frustrating, but with the troubleshooting guide provided above, you should be able to resolve the issue and start using Google Pay without any hindrance.
Remember to always keep your Android device and apps updated to enjoy a seamless payment experience and make the most out of the convenience offered by Google Pay. Happy mobile payments!