PhonePe is an Indian digital payments and financial technology company headquartered in Bengaluru, Karnataka, India. PhonePe was founded in December 2015, by Sameer Nigam, Rahul Chari and Burzin Engineer. The PhonePe app, based on the Unified Payments Interface, went live in August 2016.
Recently One day when I tried to Log in to my PgonePe account it showed "Unable to Proceed – We're unable to log you in to your PhonePe account. Please tap contact support for help."
After a lot of research and trail and test method I have found some working solutions that can work to easily solve this issue, so keep reading and follow all the solutions one by one.
Solutions to "We are unable to log you in to your PhonePe account"
There may be several reasons behind this issue and we dont know what is the exact issue from your side. So go one by one by one, any solution can solve your problem.
1. Correct the Number & Linking
Make sure you have typed the correct number and it should be linked to the same bank. If you have recently linked it then it may take time to refresh your online status. You can visit your bank branch or contact them online to check if your number is linked to your bank account or not.
2. Check the internet
Sometimes your current internet source becomes useless for using PhonPe in such case you get such error. Even some have reported that weak Internet can cause an interruption in verifying your authority.
So, try connecting to different Internet if available. If you have different network provider Internet then try using that, or if you have broadband WI-FI then try using that too, in some cases this solution works!
3. Clear Cache and Clear data
Clearing the cache of the PhonePe app will not delete any important data but 'Clear all data' will delete all data of the PhonePe app basically it will reset the app and you will have to set up the PhonePe app again from the start if you Clear the data of it.
Firstly try clearing the cache if it dont works then try to Clear all data at the last of all the solutions. You can also try to clear the cache of your default messaging app.
Steps to clear cache and clear all data of PhonePe –
Long tap on the PhonePe app icon.
Tap on the Clear data option.
Now you can clear the cache of PhonePe.
You also have the option to clear data, but remember after clearing data you will have to set up the app from start.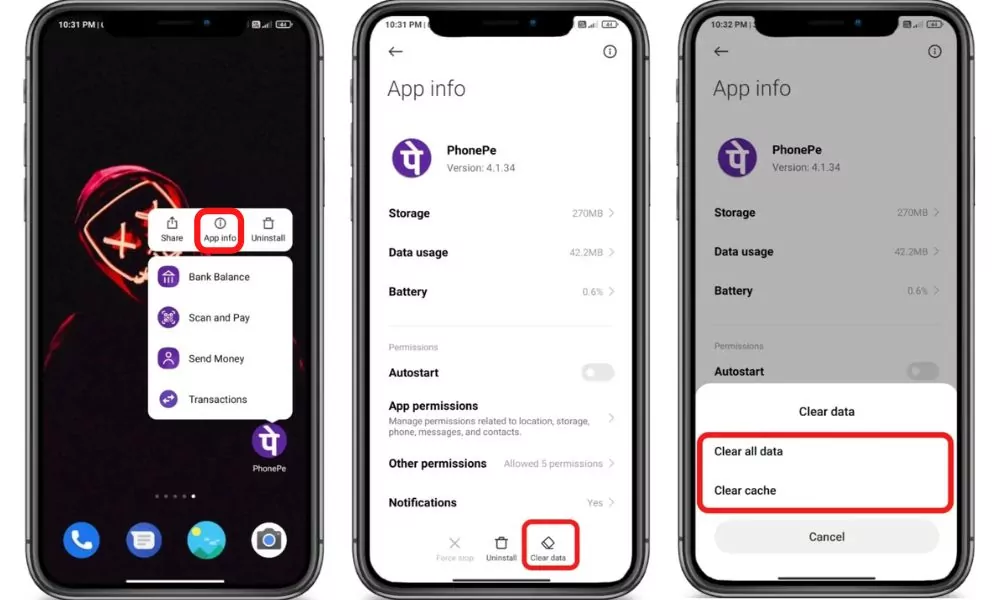 4. Update PhonePe
If you are running an old version of PhonePe then it may have some bugs. So try installing the updated version of apps from different App Download Sites or from Playstore.
To Update PhonePe from the Play Store follow the steps mentioned below:
1. Open the Play Store app then tap on your profile present in the upper-right corner.
2. Then go to 'Manage apps and device' and go to 'Updates available'.
3. Then find PhonePe and tap Update.
If PhonePe is not on the list then your App must be up to date already. In this case, follow the next solution.
5. Restart The device
Sometimes your smartphone gets some bugs and in such cases rebooting your smartphone is the best option that you can do to overcome such bugs. Simultaneously, restarting can resolve the problem related to the PhonePe app.
6. Contact support
You will have to raise a request with us to unblock your account. To do so:
Log into your PhonePe account at https://support.phonepe.com.
Tap Unable to use PhonePe.
Tap Account is blocked.
In the description write the reason for which you may have been blocked and mention that you will not do that mistake again. But if you haven't done anything wrong then mention that too.
After you raise a request, our customer support team will contact you for more information and help you unblock your account.
OR
You can contact Phonepe customer support centre on 080-68727374 / 022-68727374. And ask them what is reasons for We are unable to log you in to your PhonePe account what can I do now? Or any other necessary question.
---
We have shared all possible solutions you need to know about the 'Message not sent tap to try again' error or PhonePe SMS verification failed. If you still have any kind of issues or problems then feel free to comment below. We will help you as soon as possible.