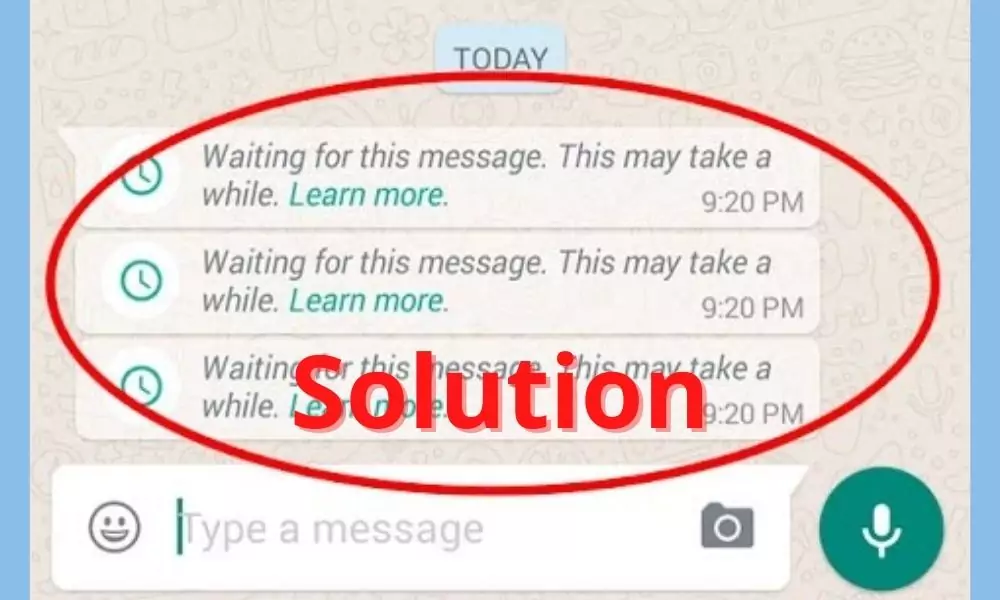 Recently when I opened my Whatsapp and I was checking unread messages. At that time I noticed the error message "Waiting for this message. This may take a while. Learn more." which was sent by one of my friends.
So later I searched for this query but later I found that issue vanished after some sort of time. But in an emergency, you should not wait and thus we are here to help you out to solve this issue.
Many sites will suggest you a temporary solution for this but I will try to give you long-term real solutions for this issue, so keep reading this post till the end to know about it.
First of all, let's know what this issue is.
What is "Waiting for this message. This may take a while. Learn more." Issue?
Actually, this error happens because of Whatsapp encrypted messages feature. When a person sends a particular message it is then encrypted and sent to the receiver with a public key. The public key only allows reading the message by the receiver, no other person can read that encrypted message in middle.
When this message is received by the receiver then it is decrypted with help of a private key, and then that particular message is shown to the receiver.
The root cause of this error is an encrypting-decrypting and the private key. Either the Sender or receiver gets out of misconfiguration due to many reasons which result in this error and in the end receiver is not able to see the particular message.
Reasons for this issue
There are multiple reasons for this issue which may be,
1. Reinstall Whatsapp
If the sender or receiver has recently uninstalled his Whatsapp and reinstalled it then his old key is deleted which was usually used to decrypt the messages. In the end, the receiver ends with this issue.
2. Change to new Phone
This case is very similar to the first one. When the user shifts to a new smartphone then the key which was used before doesn't exist in the new smartphone.
3. Clear Chat
If the user clears his old chats then keys associated with those chats are deleted and when any person related to that chat try to send a new message then this error is shown and to solve these errors keep reading this post.
Ways to fix "Waiting for this message. This may take a while. Learn more." in WhatsApp:
I found only three possible solutions for this error which I have tried to explain below.
1. Open Whatsapp
If your see such errors then just ask the sender to come online on Whatsapp the message he sends will be automatically visible to you. Make sure you both are online your problem will be easily solved.
You can also wait for the sender to come online in case of inconvenience contacting to that person.
---
2. Update WhatsApp
Make sure that you and the font-end sender person has an updated version of Whatsapp, the different version of any person may create this error so make sure both of the devices have the latest version of Whatsapp. If your Playstore or App Store isn't working to Update Whatsapp then you can update it from the Best and Trusted App Download SItes easily.
---
3. Reinstall WhatsApp
Another solution which you can try is Reinstalling Whatsapp. But do this is only o your risk you can lose your old chats. To avoid losing chats backup them. Follow the steps given below to take a chat backup.
Tap on the Three-dots menu icon on the top-right of the Whatsapp chat screen.
From the menu, select Settings.
Now tap on Chats.
Then tap on Chat backup.
Now tap on the Back Up option and wait for the backup to complete.
Once you take the backup, try uninstalling and reinstalling Whatsapp.
When you complete this whole time-consuming process you will be able to see the messages, that were showing errors.
---
Didi I helped to this error don't forget to comment on this.