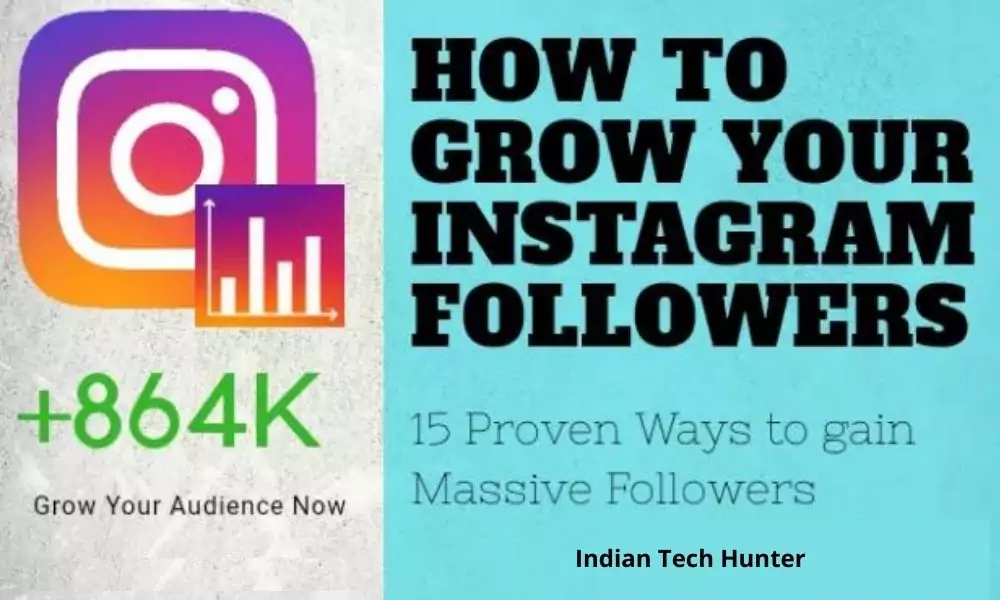 Nowadays, You all want to grow Your Instagram Followers Right? But most of you don't Know How to Grow your Instagram Followers. So you will be able to Know and Increase your Instagram Followers with These Tips.
Disclaimer
This post doesn't suggest you to use some Cheap auto/fake Follower generator if you want to increase your followers in a genuine way, then continue but If you want to get some Fake Followers and lose after some Time then please leave this post and search for that Cheap and Fake Follower Generator.
This post is Written after a right Research on Instagram Stats and I will also share those Stats with You to Make you more Clear. We only show you the best Possible Way to get you Followed by thousands.
---
Why you Don't Have thousands of Followers?
First of all, we will try to know why you are not getting your Followers to the Desired Number i.e. 5K/10K/15K or Millions.
So, the First reason Maybe You are Not a celebrity. Second Maybe you are not a famous Perssonel or you don't care about your Instagram Profile. Reasons may be anything but we only Need our Followers to be in Thousands in Number. So follow These Tips to Get your Thousands of Followers.
---
How to Increase your Followers on Instagram.
What things do you actually need to Increase your Followers Rapidly and in a Genuine way? Well, we are now going to Introduce some Proven Tactics that Can be Used to Increase your Instagram followers. Many people may ask how to get followers on Instagram without following others.
---
#1 Maintain consistency to Increase your Instagram Followers
We all Know the Power of Consistency. But most of the time we start ignoring this Factor. And this is the Most Important and first thing you have to do.
So why anyone remembers your Social Profile if you are not getting in touch with them regularly? Of course, they will forget your existence.
Therefore, At that time Consistency help, you get in touch with them and establish a close connection between you and your Audience.
So be consistent on your Instagram or even on any other social media to get More Followers.
---
#2 Create a Particular Theme for your Instagram Profile
Yes, Creating a proper theme for your Instagram profile is also one of the Most Important Tips to Keep in Mind before thinking to Gain Followers Fastly.
Your Audience won't Like your Khichdi in order to Follow you. It means you have to create a theme for a particular Niche.
For example, If you share your Selfie Portrait on your Instagram Profile, Please don't Mess your Selfie with some Animal Portrait or anything like that. It's only an Example, Relate yourself.
---
#3 Use of Hashtags to Gain Followers Quickly
You might hear the word "HASHTAG" Many times whenever you search to grow your Instagram Followers. Right?
Okay! If you are here then you will get something different and You know that.
So, most of them don't tell you the actual way to use Hashtags in your Instagram Image Caption. So here I am to Make you Understand the Real concept of hashtags. See the Video below to Know the actual way to use Hashtags.
---
#4 How many Hashtags should you use to Gain more Followers on Instagram
Most of the People will suggest you to Not to use more Hashtags in your Instagram Posts. But they are not really true at all.
You are always free to use as many Hashtags as you Can. As a bonus I recommend you to use a Hashtag for a Business. why should you use the name of any big Business? Well, You will know in The tips Forward.
The Lucky number to use Hashtags is Considered 11. Mean if you use 11 Hashtags, then it may be luckier for you to get more Reach, Engagement or Followers.
---
#5 Create Your Own Hashtags and encourage others to use your hashtags
Creating your Own hashtags and encouraging others to use them in their Photos help you in two ways.
First, you will Build your Community and second, you will get new Content for your Profile too.
What you need to do is Create a Unique Hashtag that hasn't been used by Anyone and make sure the Hashtag must have a Specific Purpose. Once you create a Hashtag and you and other Instagramers Start using it, You can also repost their Photos with their Proper Credit for it.
Nowadays, there is a Famous Hashtag in India. i.e. #PKMKB. this is an example of a trending and Unique Hashtag. You can also create your own.
---
#6 Like and Comment on the Photos of your Niche
The only way to show your Presence to those who haven't started following you is to like and comment on photos that are related to Your Niche.
Every time you Like or Comment on any Photos, everyone will be able to see your Comment in their Photos and maybe they Check your Profile and Feel the love with your Profile.
Keep in mind that there should be something to Make them Love your Profile. you can use Tip #2 for this.
---
#7 Be More social to Gain up to 10K Instagram Followers
Becoming More social will help you with gaining more Followers. You must reply to the Comments your Followers do on Your Post/Photos. So do the Same. Whenever you receive a Comment on Post Reply to them. This also defines the Actual meaning of Social Media.
---
#8 Try to Generate Engagement on your Post
You should use the right meaning of Social Media in the Right way. You should make your Followers Engage with your Post that will make them feel more connected with you.
To generate more Engagement, You should ask a simple Question in Your Post. Keep in mind that the question shouldn't be more personal. Ask a question that can be comfortable to answer for your Followers.
And when they Comment on the Answer to your Question, Reply to them with another simple Question. That will help you generate a Huge Engagement.
Bonus tip- Most of the People would love to answer the question related to them. But the question should not be more Personal.
---
#9 Use Instagram Stories to gain massive Instagram Followers
Instagram Stories is so much popular these days. Over 400 Million users watch Stories on a Daily Basis. So use this Stat for your Own Purpose of Getting more Engaged with your Audience.
You can use different types of images, GIFs or videos which may help you get more Connected with the Audience. Asking Question May help you Much better. Try Some Simple Questions and any Giggle type.
---
#10 Tag your Location To get More Reach and grow your Instagram Followers
According to a Study of Instagram Stats, It is found that Post with Geo Locating gets 79% more Reach and Engagements Too!
So what you have to do is Select a Location while Posting photos on Instagram. Whenever Peoples Search from that location or for that Location Your Post will be there and in Return, you get more Likes on your Photos.
---
#11 Figure out the best time to reach more Instagram Audience
If you are really serious and compassionate to Grow your Instagram Followers, Then you must go through the Photos you Post on Instagram.
Check at which time your Posts get Liked the Most? On which Day Your Post get more Comments and Likes on Your Pages.
Use that Stats to Find the Related time for your Photos to Post. And Post your Photos or Videos at the Same time of the Day Regularly this will make your Users alert at that time and make them wait for your Post.
---
#12 Also Figure out the Best Content-Type for Your Audience
As same as Tip #11, you should also keep your Eyes on Your Photos that you Post. Keep watching the Stats of the Photos you Post. Get through your Instagram Timeline and Check which type of Content/Images gets More liked by your Audience.
Prefer a more Liked and engaged type of Post. This will help you get more Instagram Followers. This tip is one of the easiest and good ways to Grow your Instagram Followers.
---
#13 Tag at least One Business Instagram Page or ID
You might think that Why to tag a Business Page or ID?
Let me Clear. According to a study of Stats, more than 80% of users follow at least one Business Profile on Instagram. Second, 60% of users Search and learn about new Products or Brands through Instagram. Third, More than 200 Million Users.
Now I think you are smart enough to know what I actually mean to show you these Statistics.
Tag some Popular Brands or businesses in your Post caption to get more Reach. Whenever someone Search for that Business or Brand, Your post will Appear there and Get liked By a person and Most likely they might start following You.
---
#14 Ask your non-following Audience to Follow you
Yes, Don't be shy to ask them to follow you on Instagram. Add Caption to ask for Follow.
But you can also use your user name as a watermark in a corner of your Image. It will let people know your Username and there is another advantage of using nametag is you can also advertise your Insta id on Other Platforms like Facebook or WhatsApp.
---
#15 Approach Popular Instagrammers to Collaborate
I think that you Must think OUT OF THE BOX. So you should do some Creative approach to the Popular Instagrammers. This way will help you get the audience that is already interested in your niche and that's why they are following them.
By approaching them you can post your Images on their Profile and Ask their Followers to Follow you Too as you are also posting content of the Same Niche.
---
#16 Conducting some Contests may be Ramban to Grow your Instagram Followers
If you have something to share with your Followers, try conducting some Contests on your Profile as a Giveaway.
In giveaway, you ask them to Participate in your Giveaway. To participate, They have to like your Image, Follow your Profile, and Comment on your Post. Select a Random Winner and Announce it the Winner on your Profile At the End of your Giveaway.
---
So these were the Golden and Most Useful tips to Get your Follower level up to the Next Level. Must try these tips to get shocked. You can't Expect what could be the Result.
Wish you all the very best. For know Share this article with your friends and help them get out of the Tension to get More Followers.
We regularly post such helpful posts with research so dont forget to follow us or you can bookmark us.