While on a call if you want to surf the internet then you may face a problem. Many people complain to customer care about internet issues while on call which is common in Airtel, VI, Jio, and BSNL sim. Customer care also cannot give a permanent solution to this issue.
This issue is a bit irritating as you cannot surf the internet and can not do your work with the help of the internet. Only after you end a call you will be able to use the internet.
This is more common when calling has been done from the first sim and you using the internet from the second sim card. Then internet Connectivity will be interrupted till you are using calling facilities…. as the calling facility stopped Internet connection will be restored…
I personally own Airtel and Jio on my smartphone and I used to face this issue, but recently I have found some solutions to solve this issue which is not temporary it is permanent!
You may have iPhone or Android device with Airtel, Jio, Vi or BSNL sim card, you can use these solutions for any sim card or smartphone just follow the solutions.
Note- Many sites and Youtube videos will suggest you change your APN, but my dear friends APN settings don't work in 2022.
Solution To Internet Not Working While On a Call
1. Dual Sim Issue
I was facing a problem with the internet not working while on call because of my second sim card. Whenever I get a call on the Second sim it used to turn off my internet which was usually used from the first sim. So as a solution I used to turn off my 2nd sim. It used to work every time for me.
This issue is common due to of lack of dual sim support while on call. Which is not supported by the lower Android version.
You can turn off the second sim and use only one sim. To turn off the sim you can go to Settings > Sim cards > select the sim card and turn off the card.
After ending your call you can turn on the second sim again. Or you can insert your sim in another phone or in a feature phone.
2. Enable VoLTE
VoLTE stands for Voice over Long Term Evolution which basically used to make and receive your voice calls. If your VoLTE is not turned on during the call then also you may face this problem. Thus you should turn on VoLTE. In some old phones, dual VoLTE may not have support.
To turn on the VoLTE go to Settings > Sim Cards > Select the sim card > Find and Turn on VoLTE.
3. Set Preferred Network Type
If you haven't selected the preferred network type then it may select 3G or 2G network which may cause problems accessing the internet during a call. Thus you should select the preferred network as LTE.
To set preferred network type go to Settings > Sim Cards > Select the sim card > Preferred Network type > 'Prefer LTE'.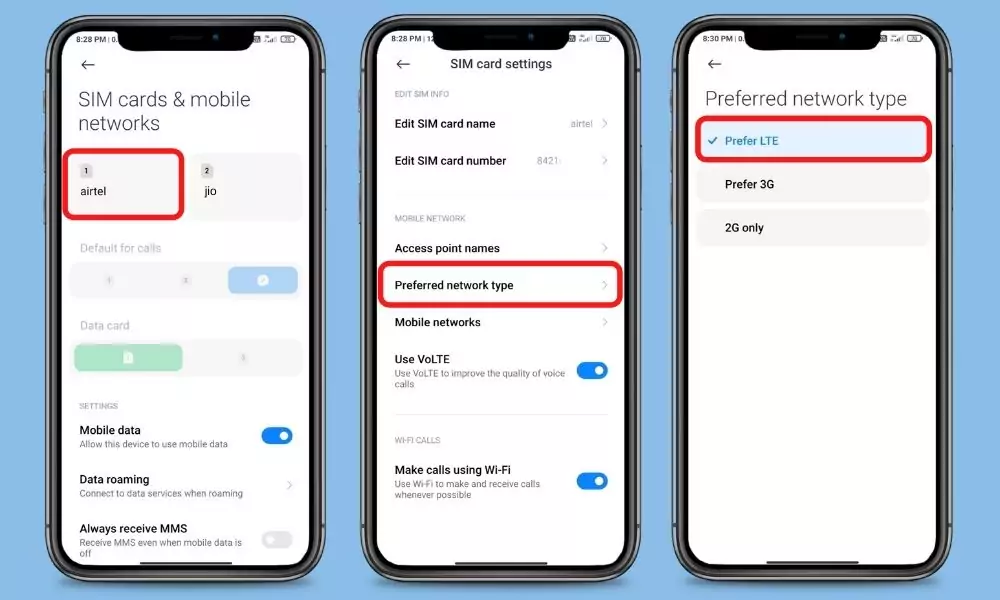 4. Call from Primary sim
In the case of dual phone sim. If you call from a second sim and use the internet from the first sim then you may not able to use the internet.
So to solve this situation, you can call from the primary sim card from which you use the internet.
5. Update Smartphone
Most of the time your software lacks support to use the internet while calling. So you should check if there is a Software update available. To check Updates available on your smartphone go to setting > About phone > Check for Updates. Update if available. A newer version may support the internet while on call.
6. Capability
If your have followed all solutions listed above and still not able to solve this issue then your smartphone software may not capble to run or handle both operations of calling and run internet at a time.
Most of the device with old software (Android 8 and below/ iOS 7 and below) may not be able to handle both operations of calling and running interent at the same time.
In this case you can request your smartphone brand for latest OS update or you can update OS by going to nearest smartphone shopee where they can update your OS to latest version but remember it may be risky for your data as well as for smarphone hardware.
---
Conclusion
So these solutions are suggested by us to solve this problem. What is your experience related to this issue let us know in the comments.