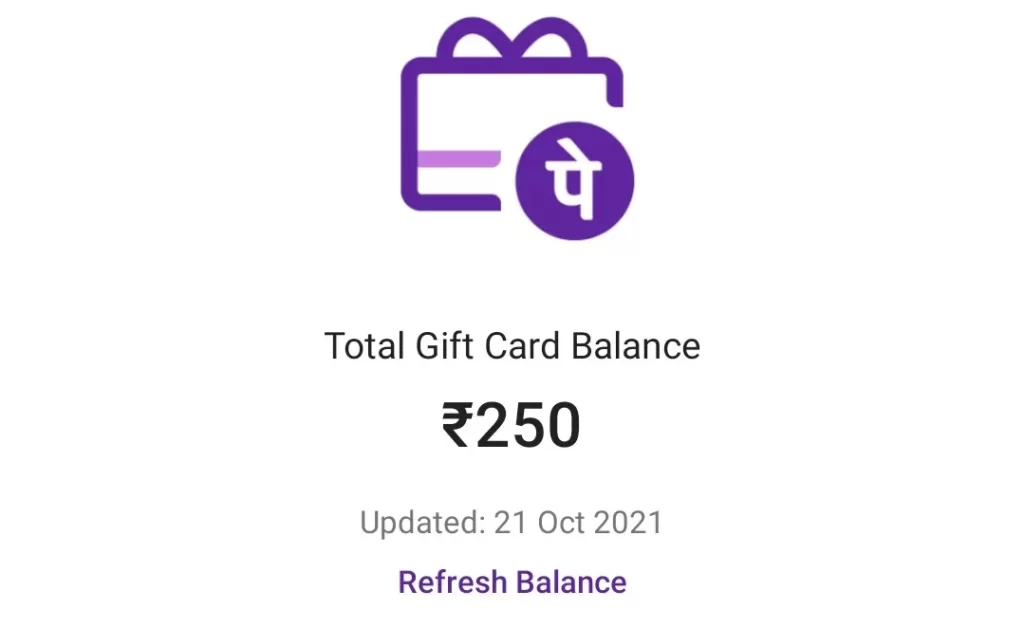 Online payments have increased over the last 3 years in India. One of its credits goes to PhonePe which is one of the most used mobile payments apps used by people in India.
There are many features in PhonePe which have made it useful and one of the most preferred apps as a mobile payments app. A gift card is one useful feature.
We have talked in detail about this PhonePe gift card you can use this post as a guide to using the PhonePe Gift Card feature in detail so don't go without reading all posts.
What is a PhonePe Gift card & why does it exist?
PhonePe Gift cards are like virtual specific money which is only redeemed towards transactions on eligible merchants on the PhonePe platform. Basically, you can use Phonepe Gift cards only on the Phonepe app.
PhonePe Gift Card exist because They can be used to give as gift money to others. Many YouTubers also use Gift cards as prizes to give to winners.
How To create/buy a PhonePe Gift Card?
To buy a Phonepe Gift card go to Profile > View All Payment Methods > manage button under Phonepe Gift card > Now you can buy a new card from here.
What is the payment mode accepted for Gift Card purchases?
You may purchase PhonePe Gift Card using UPI, Debit Card or Credit Card. Gift Cards cannot be purchased using a Wallet or Gift Card balance.
What is the "Claim now" option on Phonepe Gift Card?
When you buy a Phonepe Gift card there are two options to use it. The first one is the claim now option.
Once you confirm the claim now option purchased gift card will be added to your Phonepe account and further it cannot be gifted to anyone.
How To Gift PhonePe Gift card to another person?
When you buy a Phonepe Gift card there are two options to use it. The second one is the Send as a Gift option.
When You tap on that option it will ask you the receiver's name. It is not compulsory that a person's name should be accurate. Once you confirm then it will not be able to reclaim by your Phonepe account.
Now send the Gift card number/ Recharge code & Pin by any method.
Tell that person to open Phonepe and open the claim gift card option on Phonepe and enter the Gift Card number with a pin code. The Gift card amount will be added to the Phoenpe gift card section.
Where Can I see my available gift cards?
To see your available Phonepe Gift cards balance go to Profile > View All Payment Methods > manage button under Phonepe Gift card > Now you can see your Phonepe Gift card balance from here.
Where & How To Use Gift Card?
When you gift someone a Phonepe gift card he can use it while paying anything from Phonepe.
While doing any payment you can easily use it and it will be used as a discount from the actual payable amount.
My PhonePe has a Gift card but still, it is not showing whenever I go to do the payment?
I faced while writing this article but on next day I was able to use that Gift card for any payment on Phonepe. So if you are facing the same problem then wait 1 day after claiming the gift card if you are still not able to use that gift card then do contact the support staff of Phonepe they must help you.
I cannot find the Find PhonePe Gift Card option? OR
Where is the PhonePe Gift card option?
We have already explained above where you can find the Phonepe Gift card option.
What is the Minimum & Maximum amount for PhonePe Gift Card?
250 Rs. to 10,000 Rs.
Is there any expiry date for the Gift Card once it is purchased?
Yes, most gift cards expire within 12 months from the date of purchase. But we recommend seeing the Terms and conditions to see their validity.
Can I cancel the gift card which I have already purchased?
No, once the Phonepe Gift card is purchased it can't be cancelled.
If you are getting some problems regarding PhoneGift Card then dont hesitate to ask customer support if they dont reply then try multiple ways to contact the company. If no one replies then comment below in the comment box to let people know about such fake sites so that people dont use them.
Have any other questions then feel free to as in the comment box.