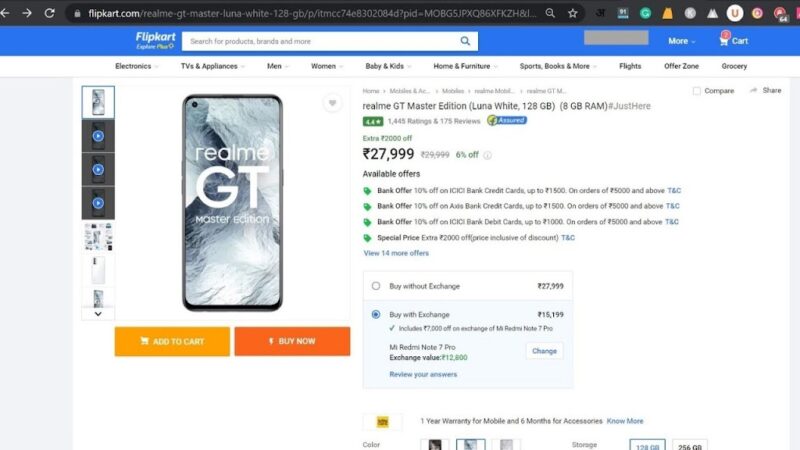 Flipkart's and Amazon's biggest sales of the year are live and many people are going to shop in this sale. I was also checking some smartphones offers. So I was checking Realme GT Master Edition.
Realme GT Master edition is one of the best smartphones around 25,000 Rs. 
Why it is best at 25k Rs.-
Processor – The biggest reason why it is best. Snapdragon's 778G is one of the powerful processors you can get around 25k thousand rupee smartphone. 
Its' Throttle test is super steady – means while performing tougher tasks like gaming it will not gain too much temperature and manage its temperature easily than other devices at this rate. Its' Antutu score is around 5,20,000. This means it can run games and other tasks buttery smooth for you.
Display- Its display is 6.43″ FHD+ Super AMOLED which is perfectly awesome for colour accuracy. You also get a 120 Hz Refresh Rate. Whether you are a gamer or Insta Reels lover no problems, this display will give you a top-notch experience. 
There is a small Punch hole camera at the left-end corner which you will notice after few days of use. And the last thing that AMOLED displays are more battery efficient than IPS, LCD displays.
Battery – There is a 4300 mAh battery in this phone and you may think this is too little than other phones. 
But due to the 6nm battery efficient processor, it will easily last you 1 day with moderate usage. And its charging speed is more than enough as its 65W super-fast charging can charge your smartphone in only 33 minutes from 0 to 100 per cent. 
This means if you get a tea break of 10 minutes and put your phone on charging then it will charge 40% which is really fast.
Overall you get a lot in this phone and it is an overall balanced deal.
And if you get this all under 20k then grab the deal don't wait.
How I am Able To Buy Realme GT Master Edition At 15,000 Rs Only:
My friend owns Redmi Note 7 Pro And just for checking the discounts on Realme GT Master Edition I took my friends phone and entered his IMEI number in the exchange box and surprisingly I got a discount of 12,800 Rupee And 8 Gb Ram 128 Gb storage deal only at 15,199 Rupee only.
If I change RAM and Storage to 8 + 256 price 18,199 Rs with an exchange of Redmi Note 7 Pro.
So to get the same discount or more get the old device you can exchange and check how much amount of discount you can get by entering IMEI number.
Have any questions then don't forget to ask in the comment box.