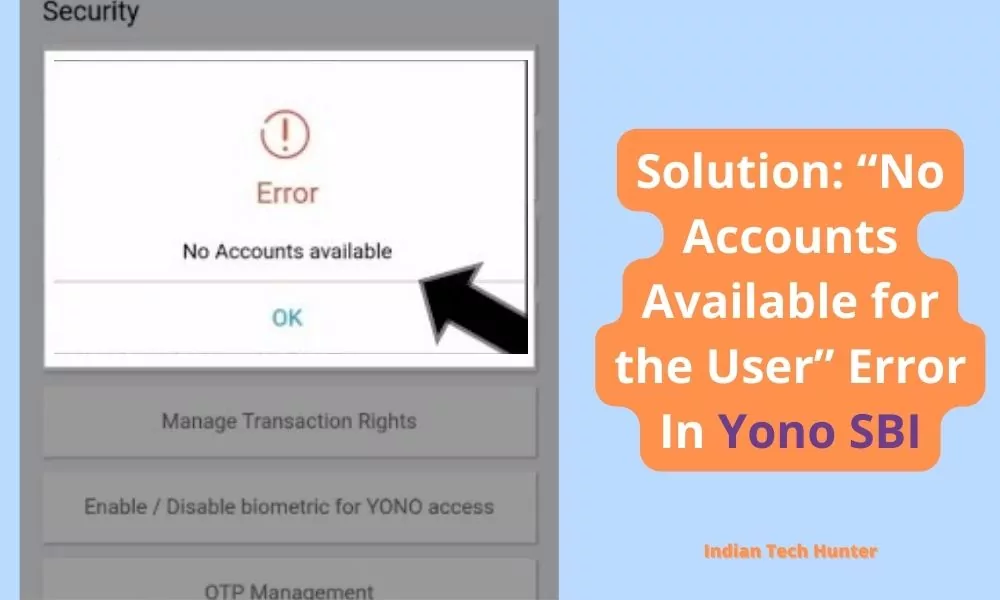 YONO is an integrated digital banking platform offered by the State Bank of India to enable users to access a variety of financial and other services such as flight, train, bus and taxi bookings, online shopping, or medical bill payments. YONO is offered as a smartphone app for both Android and iOS.
Recently I found an Error on the Yono SBI app where it was showing an Error of "No Accounts Available" for Yono SBI.
So I tried to find some working solutions for it and I Have shared them with you. So keep reading this post till the end to know the solution.
Solution: "No Accounts Available" Error In Yono SBI App
1. Full transaction Rights
Most of the time No accounts available issue is due to limited transaction rights which may be due to chosen View only rights or Limited Transaction RIghts on the Yono SBI app.
You should have "Full transaction rights" on your account. To set this follow the steps given below:
Open your Yono SBI app.
Go to "Service request"
Open "Settings"
Go to "Manage transaction rights"
Select your bank account.
Tap the pencil icon is shown after "View Only rights"
Now you will have to enter your internet banking profile password.
Now you will have to select "Full Transaction Rights"
Finally, accept the terms and conditions of SBI and tap Confirm.
---
2. Restart your Smartphone
Sometimes there is a bug in the working Android or iOS device which is the root cause of this problem and it doesn't allow your smartphone to work normally. So to sort out such bugs you just have to restart your smartphone and it will fix most of the bugs easily.
---
3. Update Yono SBI
If you are running an old version of Yono SBI, it may have some bugs. So try installing the updated version of apps from different App Download Sites or from Playstore.
To Update the Yono SBI app from the Play Store follow the steps mentioned below:
1. Open the Play Store app then tap on your profile present in the upper-right corner.
2. Then go to 'Manage apps and device' and go to 'Updates available'.
3. Then find Yono SBI and tap Update.
If Yono SBI is not on the list then your App must be up to date already. In this case, follow the next solution.
---
4. Call Customer Care
If you have followed all the above methods and none of them worked for you to receive OTP, then try calling customer care of Yono SBI.
You can call 1800 1234 (toll-free), 1800 11 2211 (toll-free), 1800 425 3800 (toll-free),1800 2100(toll-free) or 080-26599990 which are 24X7 customer care numbers of SBI.
After calling, explain your's fair situation to them, and they will definitely help you out from this situation.
---
Conclusion
We have shared all possible solutions to the problem of No account available problem on Yono SBI verification. If you still have any kind of issues or problems then feel free to comment below. We will help you as soon as possible. Also, do comment on which solution worked for you so people can also get a solution from your side.