One of my friends asked:
Why I am not able to send text messages from my Phone? Whenever I send text messages and close the app. After sometime it say "Message not sent. Tap to try again." so when I checked, message wasn't sent and it was having a red refresh button before it and when I tap it, it does not work? Currently it is happening with me persistantly! What's the solution for this?
Text messaging is one of the oldest forms of communication. But still, text messaging is a secure and reliable method for communication and verification too.
Although messaging features can work very well without a network connection, sometimes messaging features do not work properly.
Generally, text messaging is very good for communication, sometimes it may give you errors related to sending text messages.
"Message not sent tap to try again" Error is seen on Samsung, Nokia, Mi, Relame, iPhone, Huawei, Redmi, etc. smartphones. It is a common error in Android and iOS devices and please note that it cannot happen due to blocking.
So, to fix the issue that the text message failed to send from the sim you can try the tips listed below in the article.
Solutions to 'Message not sent tap to try again' Error
1. Change Sim preference:
Most of the time the wrong sim selected for SMS sending causes this error. If you have two sim cards then check if you have set the right sim card for messaging or not.
To check messaging preference go to Settings > Sim cards & Mobile Networks > SMS Messages > Choose the right sim card which can send messages.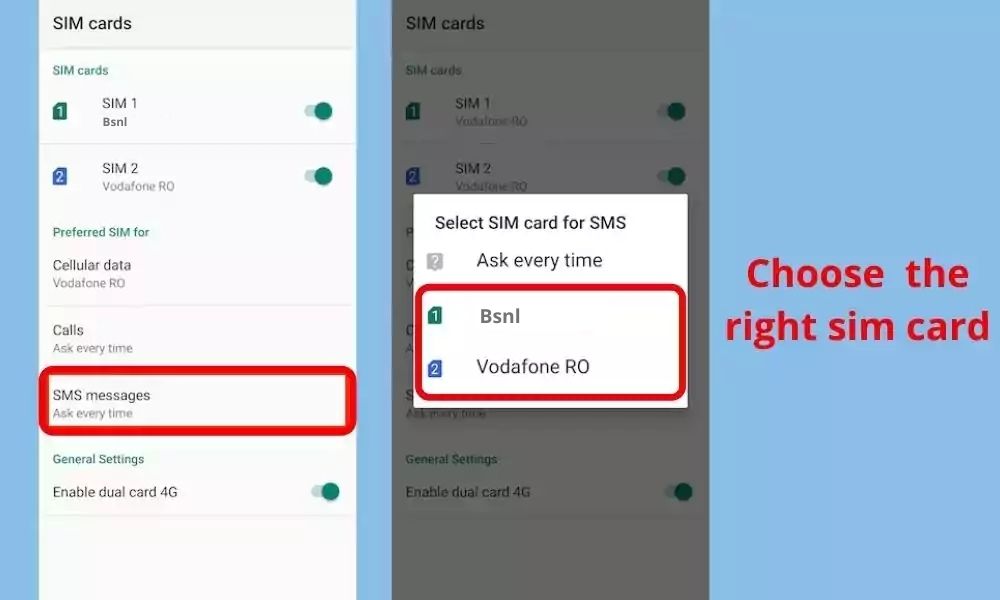 In some smartphones, you may not see this option, in this situation open Messaging app and set the SMS preferred sim card from there as shown in the screenshot below.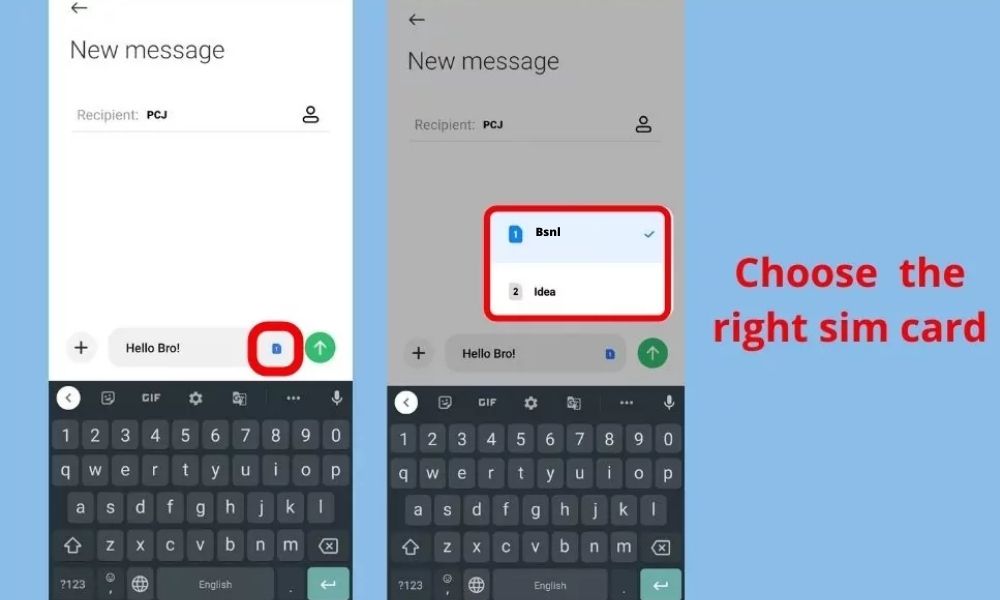 After setting up your sim preference for messaging check message sending or not if not then try the next solution.
2. Top-up Recharge:
Most of the time the problem is related to top-up. A low balance on your sim number can cause this problem. Thus to solve this issue firstly dial your balance check USSD code and check your talk time balance or check your Plan validity. If it is low or your plan has expired then recharge with at least 10 Rs. In my case, it worked only once.
So my suggestion is that you should call your sim card customer care service which will definitely guide the minimum recharge plan that can activate your sim card validity and indirectly the SMS service of your sim. So I recharged with that and my SMS sending issue was solved.
So try recharging your sim card After recharging check again if the messages are sending or not, if not then try the next solution.
3. Clear Cache Of Messaging app
The cache is the files that are used to make future processes faster, which can be deleted and deleting them will not create any major problem, and it can solve some problems too.
To clear the cache of Messaging app follow the steps given below:
Open 'Settings App' and go to the 'Apps' section.
Now find Messaging app and open the App info of it.
Now Tap on Clear Data.
Find Clear Cache and tap on it.
Then again try to open the app and try to send the message to check if is sending or not. If the problem still exists then follow the next solution.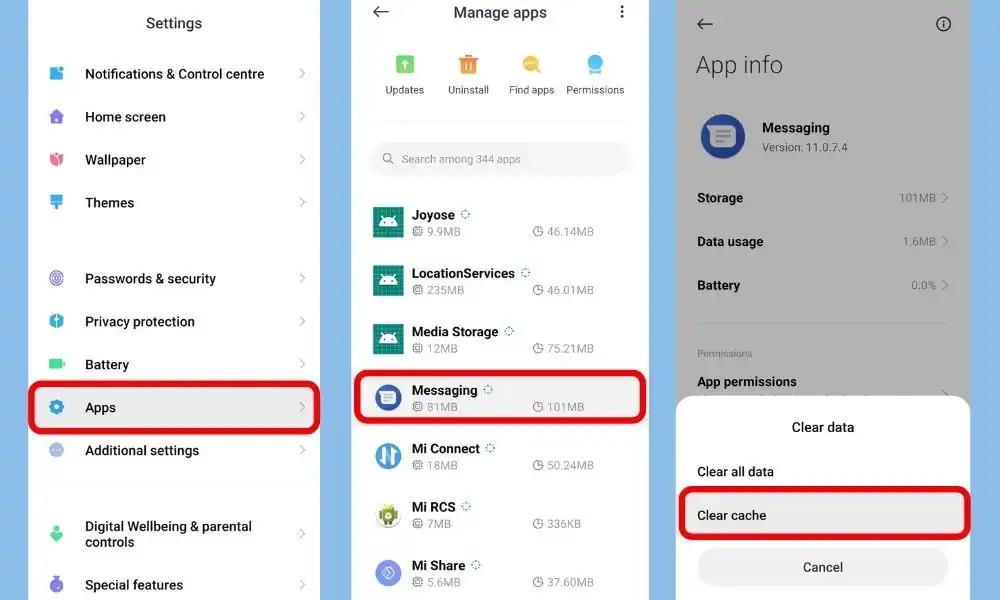 5. Restart the Smartphone
Sometimes your phone has internal misconfiguration or has some bugs. Thus to solve such bugs just simply restart your smartphone.
6. Change SMS Center Number on Android & iOS
An SMSC number is responsible for handling the SMS operations of a wireless network. When an SMS message is sent from a mobile phone, it will reach an SMS centre first. The SMS centre then forwards the SMS message toward the destination.
Thus if you have set the wrong SMSC number then you will get an error of SMS not sent. Thus to solve this error you should Update your SMSC number.
There is a different procedure for Android and iOS so follow them according to your device system.
Android
Dial – *#*#4636#*#* on Keypad.
It will automatically open the 'Testing' settings. Now if you have two sim cards on your android phone then choose accordingly. In my case, I opened 'Phone information1'.
Now scroll down and try to find the 'SMSC' option and type your network operator's SMSC number of your area and tap Update. I am from Maharashtra that's why I typed Maharashtra's SMSC number.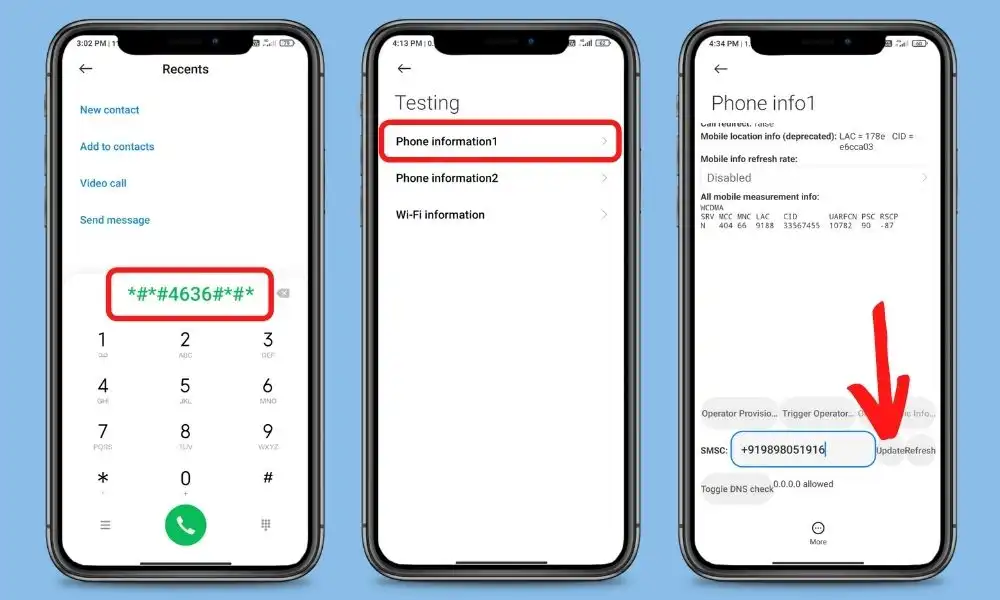 iOS
Dial *5005*7672*SMSCNUMBER# on your iPhone's dialer & tap call.
Replace SMSCNUMBER with your network operator's SMSC number of your area.
After that The message "Setting interrogation succeeded, Service Center Address" will appear on the screen.
After changing the SMSC number check whether your problem is solved or not.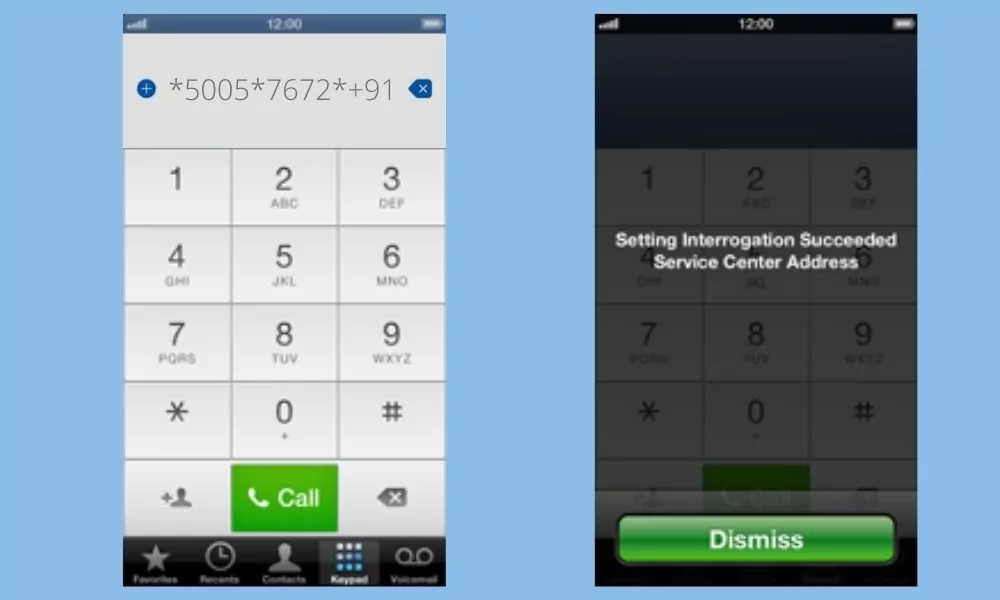 7. Call Customer Care
If you have followed all the above methods and all of them failed then try calling the customer care service of your network provider.
In India, you can contact your network provider whether it is Jio, Airtel, Vi or BSNL you can easily ask for help on the customer care service number.
After calling them, explain the fair situation to them, and they will definitely help you out from this situation.
We have shared all possible solutions you need to know about the 'Message not sent tap to try again' error. If you still have any kind of issues or problems then feel free to comment below. We will help you as soon as possible.