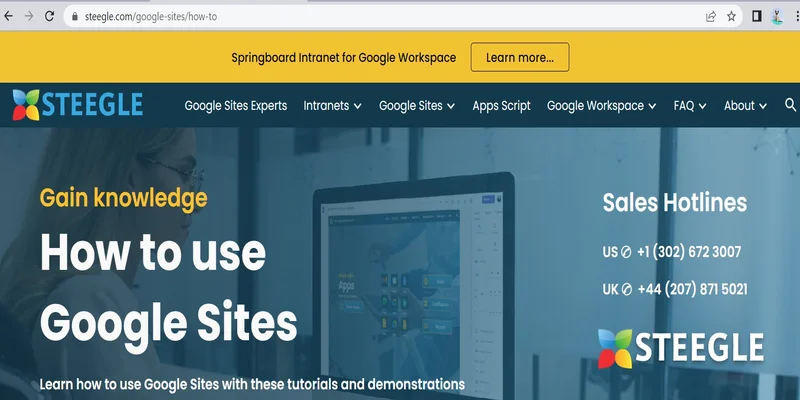 Google Sites is a structured wiki and web page creation tool included as part of the free, web-based Google Docs Editors suite offered by Google. The service also includes Google Docs, Google Sheets, Google Slides, Google Drawings, Google Forms, and Google Keep. Google Sites is only available as a web application.
The announcement banner is a very exclusive feature in Google Sites it can be used in many possibilities it can be very useful to drive traffic to certain links. The site which we have shared above has a yellow banner at the top with an external link, which is the best use of this feature.
Steps to add Announcement Banner in New Google Sites?
Step 1. Open your Google site's user panel.
Step 2. Now open the site on which you want to enable last updated time.
Step 3. Click on Settings of the site then go to the Announcement Banner section.
Step 4. Now turn on sthe how banner option, then choose the colour of the background of the banner.
Step 5. In Message type the text that you want to appear, but remember it should not be long.
Step 6. Add button label and link. Link can be internal or external it totally depends upon your goal.
Announcement banner changes are autosaved and applied the next time you publish your site.
You can customise it if you want to show this banner only on the home page or All pages.
Here is a quick video I found for you related to this Announcement banner –
FAQ
Do you get a domain with Google Sites?

When you first-time set up your Google site you get a free domain which starts with sites.google.com/yoursitename. which is free of cost for a lifetime. If you want a custom domain then you buy it from Google domains, Namecheap, Godadaddy, Crazydomains, etc domain name provider service. And you can connect it with your site.

How do I get a free domain on Google Sites?

You can use Free domain name providers like Freenom and then connect this domain to Google sites. If you ask me I would suggest dont using these free domains as they are slow and can be owned by a Domain company anytime. Instead, I would suggest going and bur simple .com domain which would cost around $7-$8 and will benefit you more than enough.

What are Anchor links & How to Enable It On Google Sites?

We have written a detailed post on this topic, so recommend reading it as it is good for your SEO on Google Sites. Read More>>

How to Enable last Updated Time in Google Sites

We have written posts on this topic too so we recommend this article too. Read more>>
Hope you got something from this post. Do comment your opinions and reactions to this in the comment section.