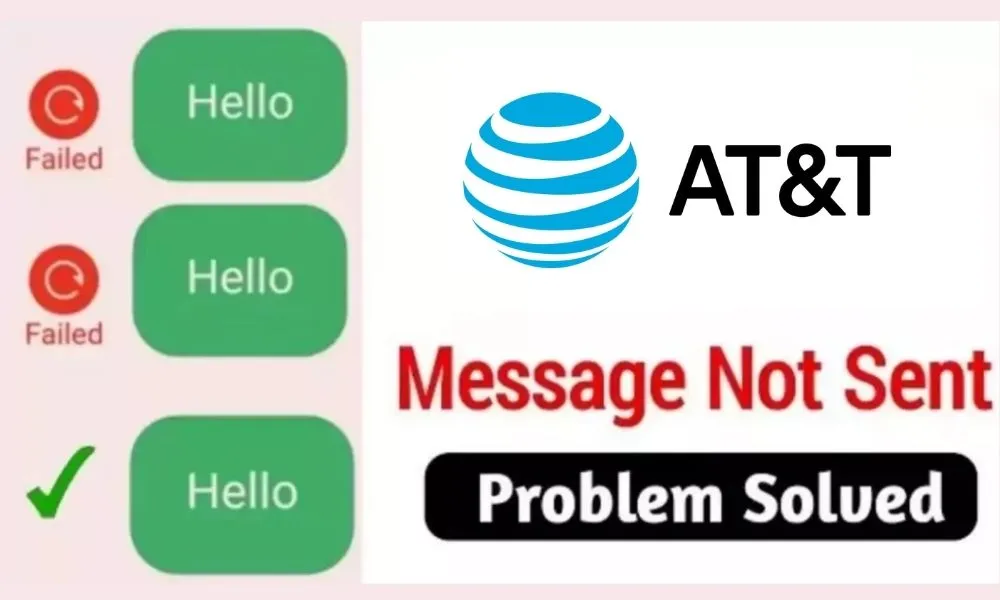 One of my friends asked:
Why I am not able to send text messages from my AT&T Sim? Whenever I send text messages and close the app. After sometime it say "Message sending failed" so when I checked, message wasn't sent and it was having a red refresh button before it and when I tap it, it does not work? Currently it is happening with me persistantly! What's the solution for this?
Text messaging is one of the oldest forms of communication. But still, text messaging is a secure and reliable method for communication and verification too.
Even though the messaging features can work very well even without the network connection, sometimes the messaging feature doesn't work properly.
Although text messaging is very good for communication, sometimes it may give you errors related to sending text messages on AT&T USA. So, to fix the issue that the text message failed to send from the AT&T sim you can try the tips listed below in the article.
Solutions to AT&T SMS not sending problem:
1. Top-up Recharge:
Most of the time the problem is related to SMS service. A low balance on your AT&T number can cause this problem. Thus to solve this issue firstly check your talk time balance by dialling *777#. Currently while writing this post Standard text messaging charge of $0.20/message applies to messages sent and received in the Nationwide Rate and Coverage Area. So make sure you have a minimum of $0.20 on your number.
So my suggestion is that you should call AT&T customer care service which will definitely guide the minimum recharge plan that can activate your SMS sending service. So I recharged with that and my SMS sending issue was solved.
So try recharging your sim card. After recharging check again if the messages are sending or not, if not then try the next solution.
2. Change Sim preference:
If you have two sim cards check if you have set the right sim card for messaging or not.
To check messaging preference go to Settings > Sim cards & Mobile Networks > SMS Messages > Choose the right sim card which can send messages.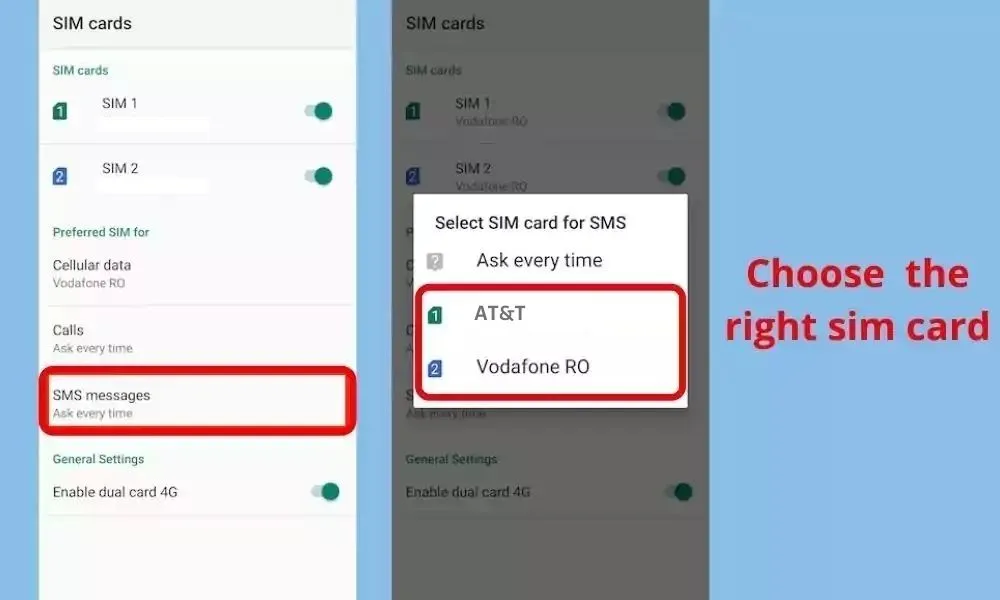 In some smartphones, you may not see this option, in this situation open Messaging app and set the sim card from there as shown in the screenshot below.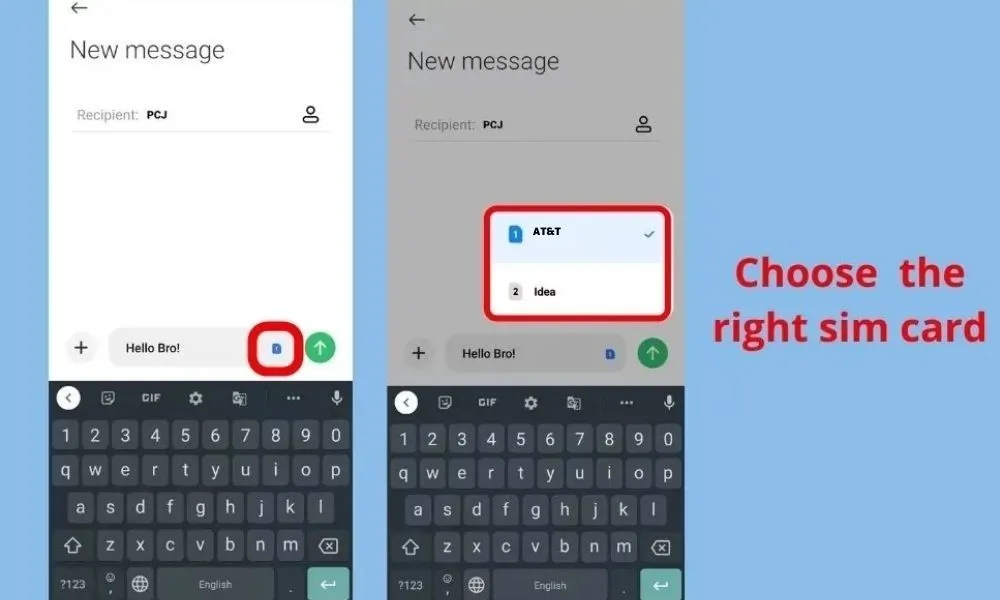 After setting up your sim preference for messaging check message is sent or not if not then try the next solution.
3. Clear Cache Of Messaging app
The cache is the files that are used to make future processes faster, which can be deleted and deleting them will not create any major problem. On the other hand, deleting them can cure many problems.
To clear the cache of Messaging app follow the steps given below:
Open 'Settings App' and go to the 'Apps' section.
Now find Messaging app and open the App info of it.
Find the Clear Cache option and tap on it.
Then again try to open the app and try to send the message to check if is sending or not. If the problem still exists then follow the next solution.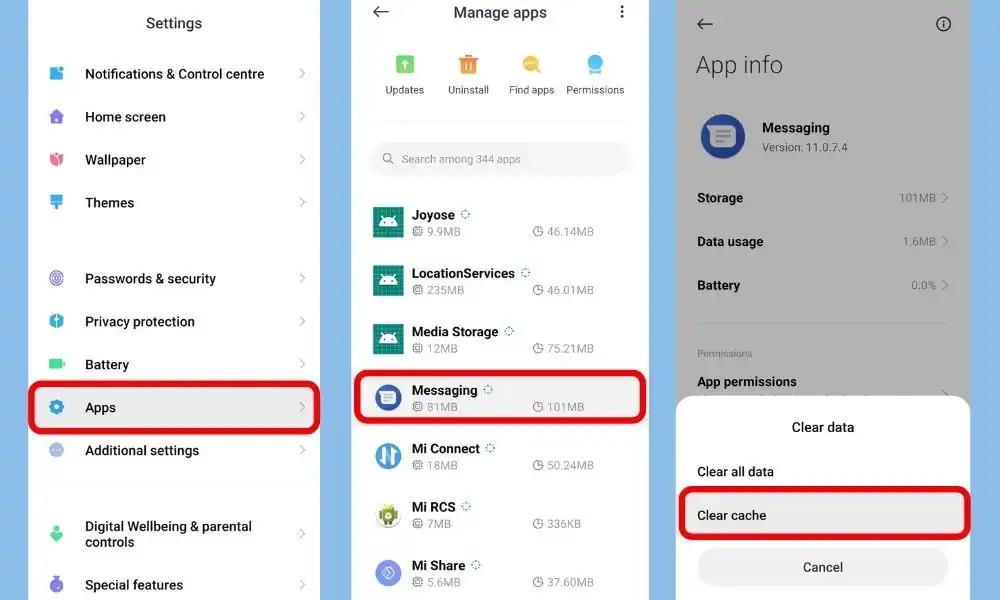 4. Restart the Smartphone
Sometimes clearing cache and force stop may not work if your phone has internal misconfiguration thus to solve this error simply restart your smartphone.
5. Change AT&T SMS Center Number on Android & iOS
An SMSC number is responsible for handling the SMS operations of a wireless network. When an SMS message is sent from a mobile phone, it will reach an SMS centre first. The SMS centre then forwards the SMS message toward the destination.
But there are no specific SMSC Settings for AT&T in the United States that's why you shouldn't change the SMSC of your AT&T number which is a better option. +13123149810 is the SMSC number for AT&T USA. You can confirm your SMSC number setting by dialling *#5005*7672# on an iPhone and *#*#4636#*#* for an Android smartphone.
6. Call Customer Care
If you have followed all the above methods and all of them failed then try calling customer care of AT&T.
For help programming the Message Center Number of AT&T in the USA
Chat with AT&T using the Chat button when available. Not available for AT&T PREPAID SM (formerly GoPhone®).
Call 611 from an AT&T wireless phone.
Call 800.331.0500 (AT&T PREPAID customers call 800.901.9878).
Former AT&T wireless customers use +1.970.376.9301.
---
We have shared all possible solutions you need to know about the AT&T message not sending problems. If you still have any kind of issues or problems then feel free to comment below. We will help you as soon as possible.