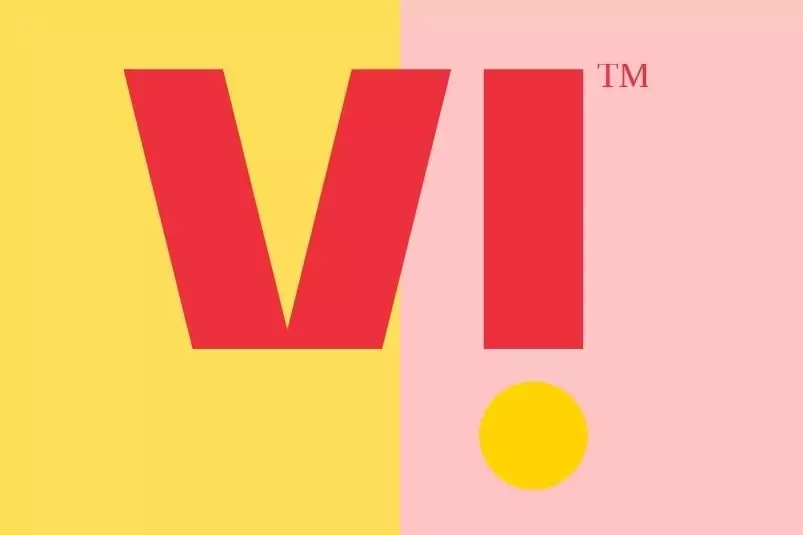 Vi or Vodafone Idea Limited is an Indian telecom operator with its headquarters based in Mumbai and Gandhinagar. It is a pan-India integrated GSM operator offering 2G, 3G, 4G, 4G+, VoLTE, and VoWiFi services.
If you are going abroad and want to use Vi then you can use Vi easily by using the international roaming service. Keep reading this post till the end to know how you can use the internet and calling of Vi outside India.
How can you use Vi in other countries i.e in foreign
You can easily use Vi in other countries outside India. You just have to activate international roaming on your Vi sim. However dont expect a very good experience of using Vi sim in other countries as there will be medium average to low performance of Vi sim.
How to activate international roaming on the Vi app or myvi.in
You can see and buy international easily from either the Vi app or the Vi website.
Vi App
Open the Vi App.
Login to your account using the same number.
From Home Scroll the list and go to 'International roaming'.
You will have to select the country in which you are and then you can choose proceed.
After that you will get all available packs available for the country you entered.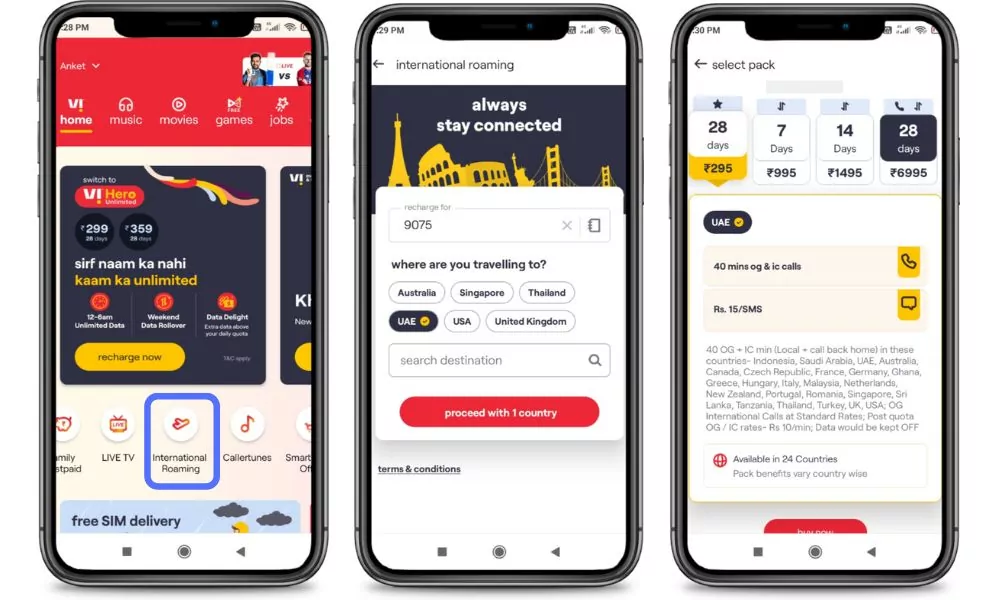 Vi Website
Open MyVi website.
Sign in to your account by entering your same Mobile number.
Go to International Roaming.
Select the country or countries and click process.
At the end you will be able to see Plans for the country in which you are.
How to choose and buy an international plan of Vi
When you navigate to the international plan section you can choose the country and then accordingly you will see different plans for Vi.
When you choose a country you get many one-day, Four days, one-week, Ten days, Fourteen days, and 28 days plans. While buying you should know all different rates of usage:
Rates for a local call, call to India, call to the rest of the World, incoming call, Outgoing SMS, and Mobile Data. All the usage is charged as per applicable standard International Roaming rates. These rates differ from country to country. Given below is the average range for the rates for various types of usage :
Incoming Calls: Rs 30/min to Rs 315/min
Outgoing Calls: Rs 21/min to Rs 399/min
Data Usage: Rs 563/MB to Rs 1536/MB
Outgoing SMS: Rs 15/SMS to Rs25/SMS
How much time it will take to activate the international Roaming plan on Vi?
International Roaming will be activated within 4 hours of buying the pack. You will receive a message once International roaming has been activated. You will get benefits according to the IST time.
Please ensure that your SIM is connected to the Vi roaming network during this period. Your phone will stop receiving signals once the activation process begins, thereafter you will have to restart your phone for your request to be processed.
How to activate Roaming in your Smartphone
Swipe up on the home screen to access your apps.
Tap "Settings", then tap "Connections".
Tap "Mobile Networks".
Tap the switch to activate or deactivate "Data Roaming".
Please note: If the Data Roaming switch is greyed out, check that Mobile data is activated.
In which countries you can use Vi SIM?
Unlimited packs offered by Vi are valid in Greece, Hungary, Ireland, Italy, Malaysia, Netherlands, Netherlands, New Zealand, Philippines, Portugal, Romania, Czech Republic, Germany, Singapore, Spain, Sri Lanka, Thailand, Turkey, United Arab Emirates, United Kingdom and the United States, and more countries. In total Vi have plans supported in more than 200 countries.
Experience of Vi with International Roaming
I have personally watched and found some very useful videos regarding internal roaming so I recommend watching them once.
FAQ
How does international roaming work?
Telecom operators have roaming agreements with each other, for example, consider that you are a subscriber of Vi in India and you visit Brazil. Then Vi India would have made agreements with any operator in Brazil for such roaming subscribers say with TIM Brazil.
So the moment you switch on your mobile phone upon reaching Brazil you would be connected to TIM's network as a roaming subscriber. Your profile would be sent from the HLR in your home country (Vi in this case) to the VLR (Visitor Location Register) of TIM in Brazil.
Then Your usage will be simultaneously tracked by both the sim providers. And to ensure a good experience both network provider companies will charge you with an extra service charge. That is why you will see expensive international roaming plans most of the time.
How can I contact Vi from outside India?
If you want to contact Vi from abroad then there three best options:
You can call the customer care on 199.
Chat on WhatsApp with Vi customer care service.
You can chat online via myvi.in site.
how a postpaid user can avoid high bills on Vi International Roaming?
Your bill depends on how and how much you use your number outside India. If you have not taken any International Roaming plan and use your phone normally as you do in India, there is a high chance of you getting a very high bill. It is, therefore, advisable to use your phone on International Roaming only with a pack. You can safeguard yourself from high bills by choosing from the best international roaming plans.
How do I check my Vi balance of international roaming?
You can log in to the Vi website from any corner of the world and then check your international roaming balance. Or you can log in to your account with the Vi app.
How can I receive SMS on Vi outside India?
To receive SMS firstly you have to turn on Roaming on your smartphone as I mentioned above. Then you may be able to receive SMS its most of the time free. It's free for Prepaid as well as Postpaid. If you are not getting SMS then contact Vi support.
How can I get OTP on Vi from outside India?
You'll need to activate international roaming on your mobile phone before you travel overseas in order to receive the One-Time Pin (OTP). Contact your network provider for additional information.
Why is Vi SIM not working in roaming?
Check that data roaming is on in dual sim card settings. Switch off your mobile. Remove both the sims. Insert only the Vi sim in slot 1 and do not insert the other sim. Besides roaming issues, if you have other issues then you can check our posts:
Final Words
We explained all stuff related to the International roaming Vi, If I have missed anything please let me know in the comment section. Also, do comment your opinions and experience on this.